RECIPES
Baked Papaya and Chayote Stuffed Clam Shells
Baked clamshells are very easy to make and very difficult to ruin. Here is a great example of a recipe that will impress your guests, enjoy a good meal and remain healthy until dessert.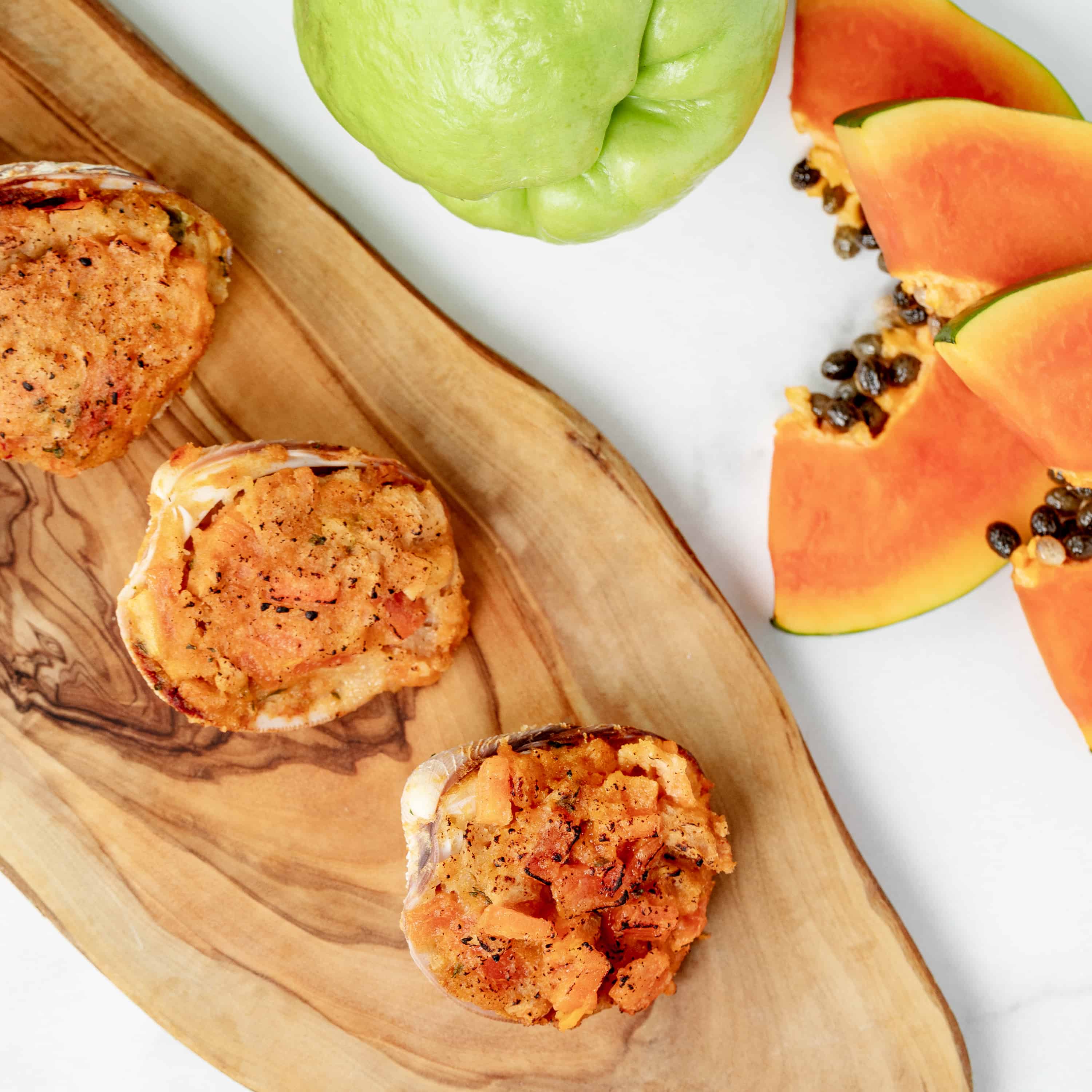 Serving
10-12 pieces (3 per serving)
Time
50 minutes
Difficulty
Medium
INGREDIENTS
10 to 12 large chowder or Quahog Clams, rinsed,
sand and grit removed.
1 Pc Papaya Solo
1 Pc Chayote
1/2 Pc Onion
1/2 Cup Butter
1 Clove Garlic
1/2 Pc Lemon
1 cup Breadcrumbs
1 Tbsp Clam Juice (or cooking liquid from steaming the clams)
Salt and Freshly Ground Pepper, to taste
1/4 Cup Grated Parmesan cheese
DIRECTIONS
1) Fill a large pot with 1 1/2 to 2 inches of water. Bring water to a boil. Add the clams to the boiling water. Reduce the heat to a simmer and let the clams steam for approximately 6 to 10 minutes, until the shells open. IMPORTANT; any unopened clams would need to be discarded since they will not be good for consumption.
2) Separate the meat from the shells (not the clam foot, which is attached to the shell) and mince finely.
3) Break apart the clamshells from their hinges. Rinse. Pick 10 to 12 of the cleanest, nicest looking clamshells and set aside.
4) Pre-heat the oven to 350 F. Place a rack in the center of the oven.
5) Peel and chop the onion and garlic in very small cubes (Brunoise).
6) In a sauté pan, melt the butter on medium heat and add the minced onion. Once the onions have softened (2 to 3 minutes), add the garlic.
7) Cook the garlic for 1 minute, then add the parsley, breadcrumbs, minced clams, lemon juice, and clam juice.
8) Stir until the stuffing mixture is completely moistened (If too dry, add a bit more butter or clam juice; if too wet, add a bit more breadcrumbs).
9) Peel and cut the chayote in small cubes. Add to the mix.
10) Lay clamshells on a baking dish. Scoop a little stuffing mixture onto each clamshell. Sprinkle with grated parmesan cheese.
11) Bake at 350 F for approximately 20 to 25 minutes, until the parmesan cheese is lightly browned on top.