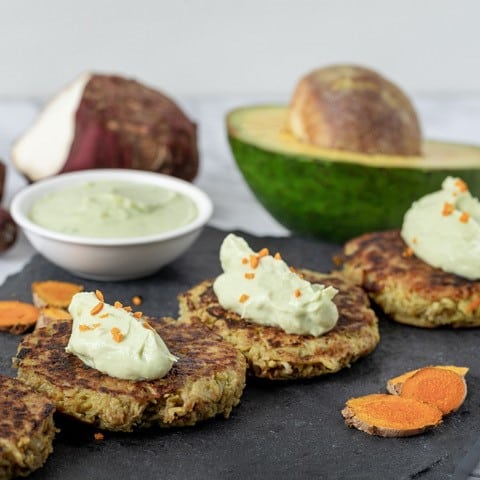 Serving
12 pieces
Time
20 minues
Difficulty
medium
INGREDIENTS
2 pcs boniato
1 pc turmeric
1 1/2 tsp salt
1/2 tsp black pepper
1 egg
1/2 pc yellow onion
3 Tbsp.  olive oil
1 pc avocado
1/4 cup sour cream
DIRECTIONS
1) Peel the boniato and with a cheese grater, shred into a bowl.
2) Peel and grate the turmeric into the bowl.
3) With the cheese grater, shred the onion into the bowl. Add the egg, 1 tsp salt and the pepper and mix with a spoon.
4) Pre-heat the olive oil in a pan. With your hands, make small or medium pancakes with the mix and cook in the oil flipping every 30 seconds until golden brown.
5) Cut the avocado in half, remove the pit and scoop out the fruit into a bowl. Add the sour cream and 1/2 tsp of salt.