RECIPES
Buffalo Plantain and Mango 'Wings'
Spicy, sweet, fragant and vegetarian. A recipe to then try with other sauces.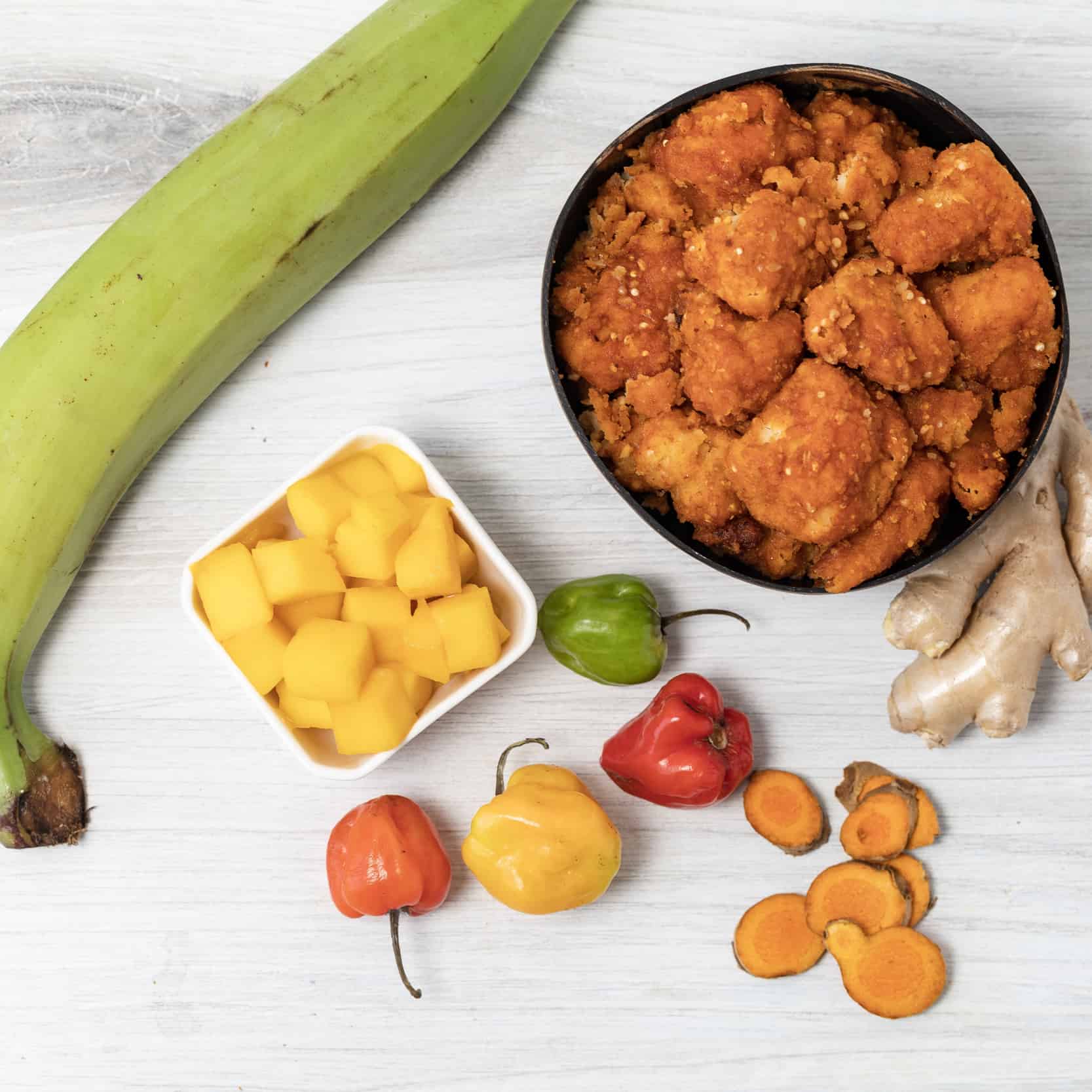 Serving
4 people
Time
45 minutes
Difficulty
intermediate
INGREDIENTS
2 pcs plantain
2 pcs mango
3 Tbsp. flour
1 Tbsp corn starch
1 pc Habanero pepper
1 Tbsp. tomato sauce
1/4 + 2 cups separated water
2 Tbsp.  unsalted butter
1 ½ Tbsp.  apple cider vinegar
1 tsp garlic powder
1 tsp onion powder
1 tsp black pepper
Salt
DIRECTIONS
1) Peel the mangoes and chop roughly.
2) In a pot add the mango, habanero, tomato sauce, water, onion and garlic powder and bring to a boil. Reduce fire and cook for 15 minutes.
3) Add the water, brown sugar and soy sauce and bring to a boil.
4) Mix in a blender and reserve for later.
5) Cut the ends of the plantains and make a cut lengthwise through the skin.
6) In a large pot, put 2 cups of water to boil and place the plantains. Cook for 3 minutes.
7) Remove from the water and remove the skin, which now should be tender.
8) Cut the plantain in 1-inch cubes and place in the water and cook for 10 minutes.
9) Remove from the water and smash. Season with salt, pepper, onion powder and garlic powder.
10) Make oddly shaped balls with the mashed plantain, and coat with corn starch.
11) Deep-fry the plantain 'wings' at 350F for 3 minutes. Once ready toss in the sauce, serve and enjoy!