RECIPES
Cheese Stuffed Yellow Yams with Turmeric Mayo
Winter weather, couch, movies and this recipe… You are welcome.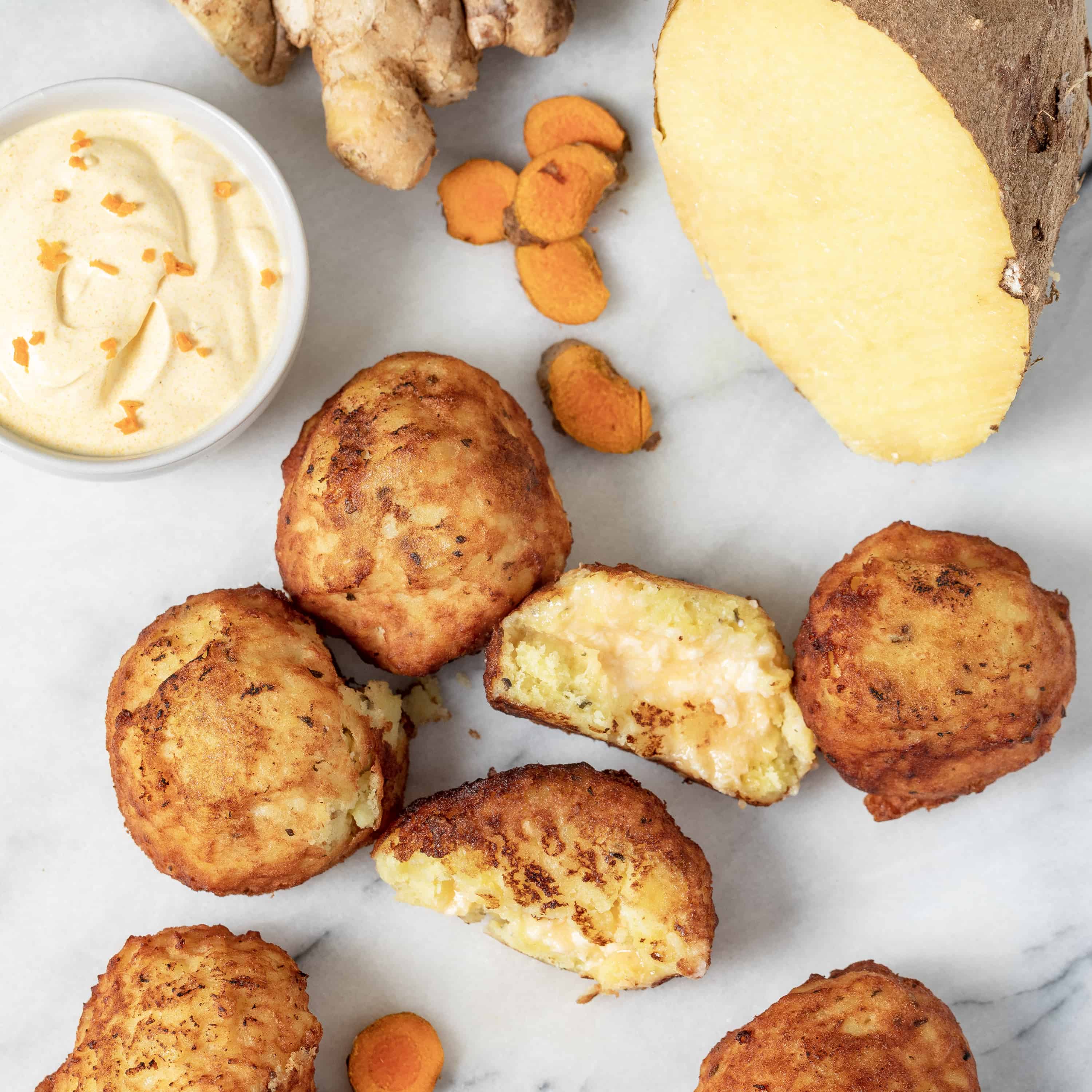 Serving
6-8 pieces
Time
40 minutes
Difficulty
medium
INGREDIENTS
1/2 Lb. Yellow Yam
2 Pcs Egg
1 Tbsp Salt
1 Tsp Water
1 Tsp Onion Powder
2 Tbsp Honey
1/4 Cup Shredded Mozzarella Cheese
1/4 Cup Shredded Sharp Cheddar Cheese
1/4 Cup Mayonnaise
1 Pc Turmeric
DIRECTIONS
1) Bring water to a boil in a pot.
2) Peel and slice the yellow yams in 1 inch pieces and cook them in the water.
IMPORTANT: Once sliced, the yams will start turning brown immediately. If they are not placed directly into the boiling water or in under 1 minute, you will need a bowl with cold water to keep them from going bad.
3) Cook the yams for approximately 10-12 minutes, or until very soft.
4) Remove from the water, mash with a whisk or a potato masher.
5) Add the egg, honey, salt, pepper and onion powder and mix.
6) Spread the mix in a flat tray and allow cooling down for 30 minutes in the refrigerator.
7) Mix both cheeses and make 1-2 oz balls.
8) Cut 2-3 inch squares, place the cheese ball in the middle and close shaping as a ball.
9) Peel the turmeric (reserve a small piece) and shred with a cheese grater. Mix with the mayonnaise. Chop the remaining turmeric very small and use as garnish.