RECIPES
Chimichurri Steak with Pan Roasted Yellow Yams
Classics never go out of style when you give them a new twist. Experience this refreshing homemade ginger twist that will add spice & flavor to your steak.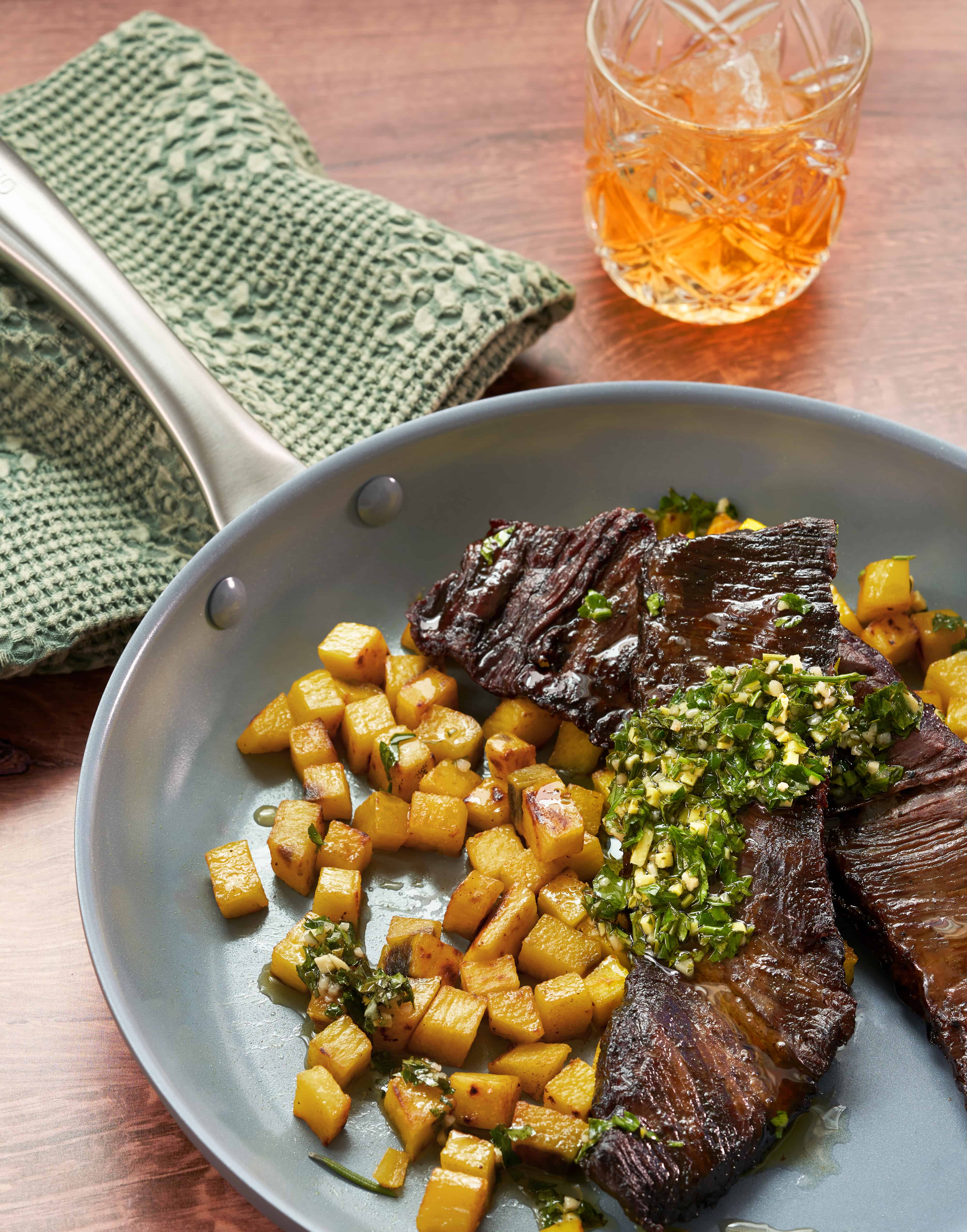 Serving
2 people
Time
40 minutes
Difficulty
hard
INGREDIENTS
2 yellow yams
12 oz. outside skirt steak
1 oz. ginger
1 bunch of parsley
2 garlic cloves
½ cup olive oil
½ tsp of salt
1 tsp pepper
1 Tbsp lemon juice
DIRECTIONS
1) On a chopping board, chop the parsley, garlic, and peeled ginger together. Slowly add the olive oil, salt, and pepper.
2) Once everything is combined, put it all in a bowl and add ¼ cup of olive oil, salt, pepper and lemon juice.
3) In a bowl, marinate the skirt steak with half of the ginger chimichurri and let it rest for at least 2 hours.
4) Peel and cut the yams in ½ inch cubes. Keep them in water until ready to use.
5) Remove the yams from the water and dry with a piece of paper towel.
6) Put 2 Tbsp of olive oil in a sauté pan. When hot, sauté the yams with salt and pepper, moving them every minute until golden brown.
7) Grill the skirt steak flipping every minute until reaching the desired temperature*.
8) Serve with the yams, drizzle with the ginger chimichurri, and enjoy!
*Chef's Note:
To cook a skirt steak to "Medium" Temperature, you will need about 8 to 10 minutes (Depending on the thickness of the steak).