RECIPES
Ginger Chicken Thai Lettuce Wrap
These chicken lettuce wraps are super tasty, satisfying, and they're actually low carb!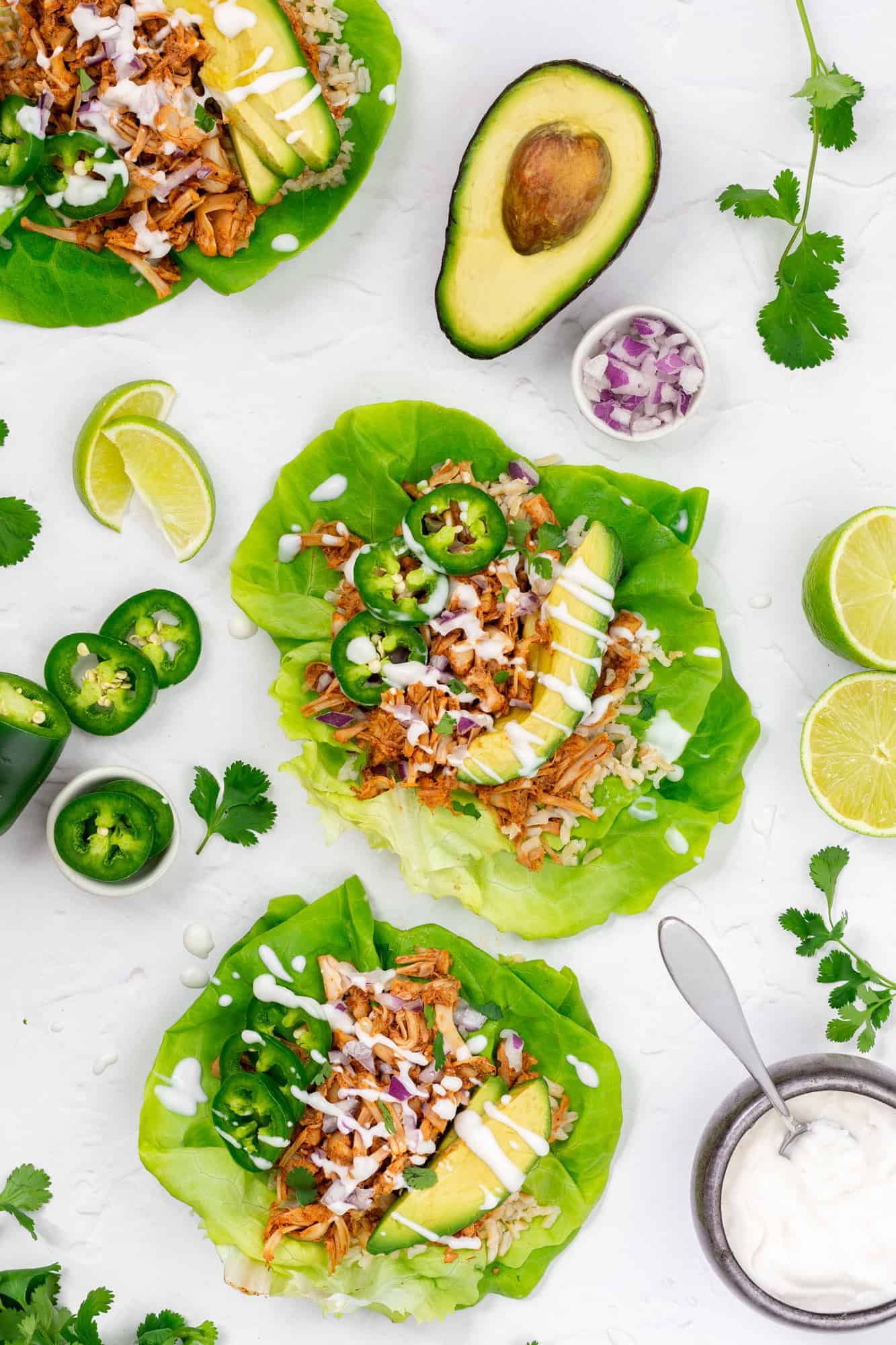 Serving
2 people
Time
20 minutes
Difficulty
intermediate
INGREDIENTS
2 Tbsp olive oil
1/2 lb. chicken tenders or chicken breast
4 garlic cloves
1/2 yellow onion
1 thumb-sized piece ginger
1 turmeric
3 Tbsp soy sauce
1 Tbsp honey
1 tsp paprika
1 Tbsp rice or white vinegar
1 butter lettuce
1 green chili
3 Tbsp sweet chili sauce
1 bunch cilantro
1 tsp salt
1/2 tsp black pepper
DIRECTIONS
1) Peel and chop the garlic, ginger and turmeric together.
2) Put 1 Tbsp of olive oil in the sauce pot at medium heat and add the garlic, turmeric and ginger.
3) Sautee for 2 minutes and add the soy sauce, honey and paprika. Cook for 2 minutes at low heat and remove from the fire. Add the vinegar and reserve for later.
4) Cut the onion in brunoise (small cubes) and the chicken in small cubes.
5) Sautee the onion with olive oil at high temperature. Add the chicken, season with salt and pepper and sautee until seared.
6) Add the sauce to the chicken and cook for one minute.
7) Very gently remove the whole lettuce leaves and place individually on a plate.
8) Serve 2/3 Tbsp of chicken in a lettuce leaf and garnish with chopped cilantro. If desired, you can also add 2 or 3 thin slices of green chili and sweet chili sauce.
*Chef's Tip:
For vegan option, replace the chicken with firm tofu and follow the same cooking directions.