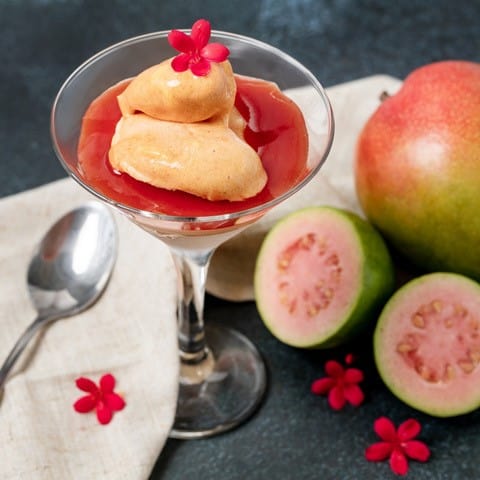 Serving
2 glasses
Time
45 minutes
Difficulty
easy
INGREDIENTS
1 pc mango
8 -10 pink guavas (ripe)
1/2 lemon
1 tsp Blossom water
1/4 cup raw sugar
1/4 cup whipping cream
Some fresh water (optional)
DIRECTIONS
1) Peel the mango, cut in slices and reserve.
2) Remove the skin of the guava and cut it in halves.
3) With a small spoon or a melon scooper remove the seeds and reserve in a bowl.
4) Cut the guava flesh in segments and reserve.
5) In a mixer add the guava seeds, sugar, orange blossom water and lemon juice and mix until smooth.
6) Put the mixture in a sieve and remove the seeds.
7) Add the sauce to a pot with the guava segments and cook at low fire for 15 minutes. If it is too thick, add 2-3 Tbsp.  of water.
8) Blend the mixture, reserve half for garnish and the rest blend with the fresh mango. Allow to cool down.
9) Whip the cream until it forms soft peaks. With a rubber spatula, fold the guava/mango puree.
10)Refrigerate the guava dessert for 30 minute and then serve in a glass and top with the guava sauce.