RECIPES
Not So Al Pastor Chicken Tacos
Power your day with this deliciously nutrient-packed smoothie. The banana and mango give it the perfect naturally sweet taste, while the coconut water keeps you refreshed and hydrated after an active workout.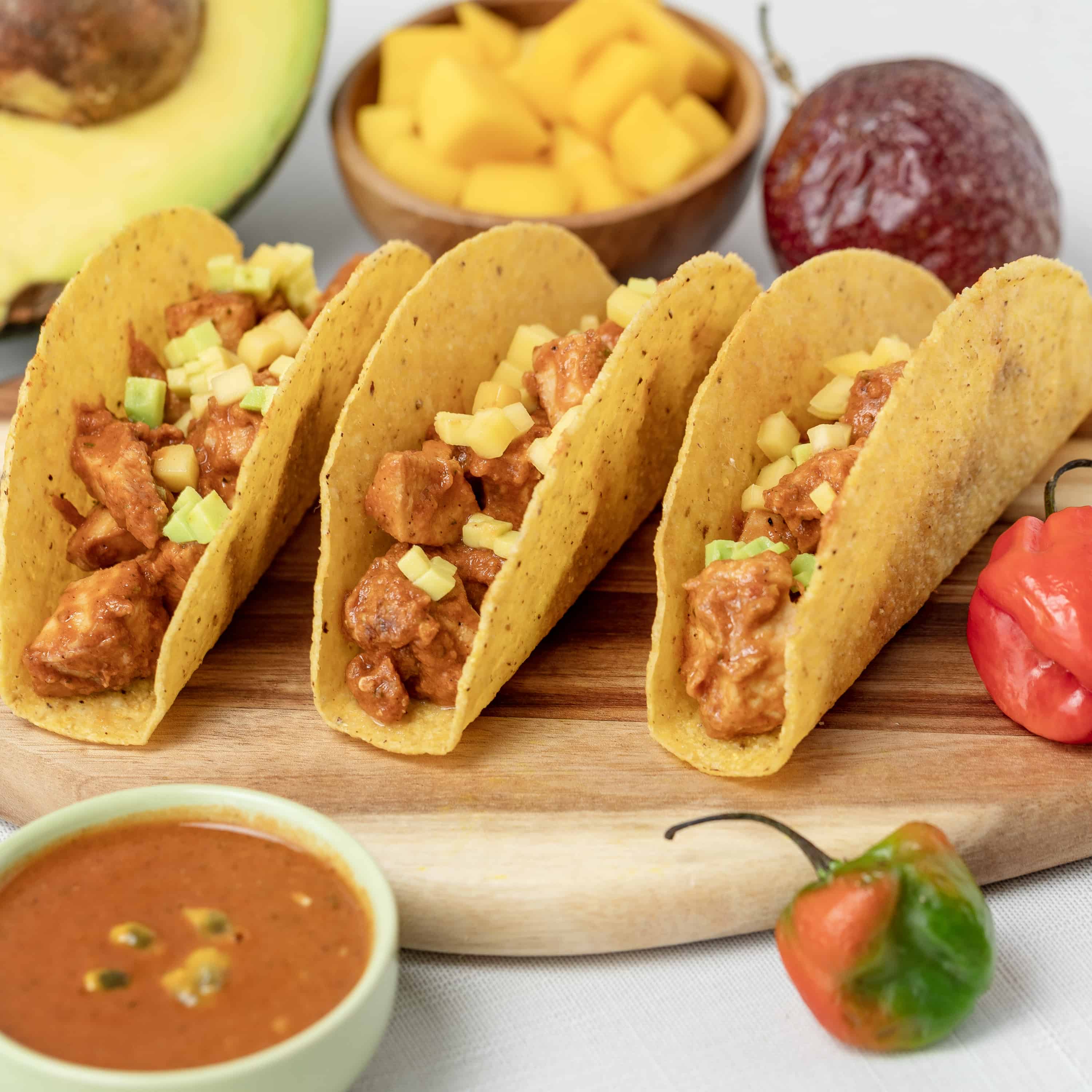 Serving
2 people
Time
10 minutes
Difficulty
easy
INGREDIENTS
1 Pc Chicken Breast
2 Pcs Passion Fruit
1 Small Yellow Onion
2 Cloves Garlic
1/2 Cup Water
1/2 Avocado
6 Pcs Hard Taco Shells
1 Tbsp Salt
1 Tsp Black Pepper
1 Tsp Annatto Powder (Achiote)
1/2 Bunch Cilantro
3 Tbsp Olive Oil
DIRECTIONS
1) Cut the chicken in cubes.
2) Cut the passion fruit in halves and scoop the fruit and seeds into a blender.
3) Peel the mango, onion and garlic, slice and add to the blender. Reserve 1 slice of the mango cut in small cubes to be used as garnish.
4) Add the cilantro to the blender and mix everything.
5) Pre-heat a pan with the olive oil to high temperature.
6) Cut the chicken in small cubes, season with salt and pepper and sauté while moving in the hot olive oil for approximately 5 minutes or until golden brown.
7) Add the sauce from the blender to the pan. Reduce heat and cook for 5 minutes.
8) Cut the avocado in half, remove the seed, peel and cut in small cubes.
9) Serve the chicken in the taco shells and garnish with the cubed avocado and mango.