RECIPES
Papaya BBQ Chicken Wings
Crown yourself the next lord of the wings when you tailgate with this papaya BBQ chicken recipe.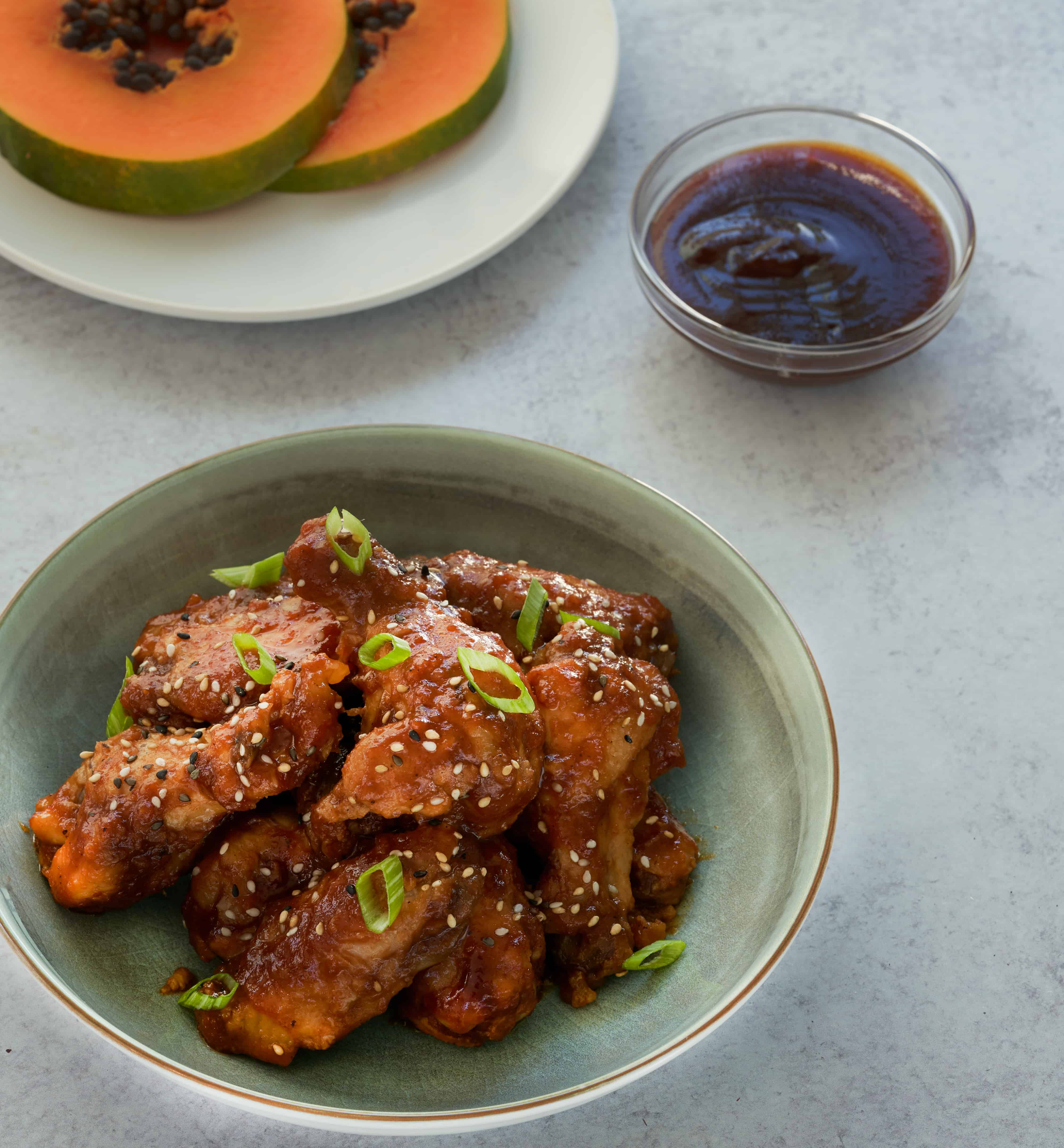 Serving
3 people
Time
45 minutes
Difficulty
intermediate
INGREDIENTS
12 chicken wings
½ papaya
½ cup ketchup
1 inch ginger
2 limes
3 Tbsp honey
2 tsp salt
½ tsp chili powder
½ tsp garlic powder
Pinch of nutmeg powder
1 Scotch bonnet (Optional)
1 tsp salt
1 tsp black pepper
½ tsp smoked paprika
½ cup all-purpose flour (optional)
2 cups vegetable oil (if frying)
3 Tbsp olive oil (if baking)
3 scallions
1 Tbsp sesame seeds
DIRECTIONS
1) Cut and remove the wing tips and marinate the wings with salt, pepper and smoked paprika. If you're looking for a less light and crispier approach, these can be coated with flour.
2) To make the BBQ sauce, add the papaya, ketchup, ginger, lime juice, honey, salt, chili, garlic and nutmeg powder in a blender. Then blend at high speed until it's a puree.
3) In a pot, heat the mix at low temperature until right before boiling. Then, reduce the fire and let simmer until thick.
If frying:
Heat the oil, deep fry the wings for 3-5 minutes, carefully remove them into a bowl and toss them with the BBQ sauce in a bowl.
If baking:
Heat the oven to 400 degrees, place the wings in a baking tray and cook for 30 minutes. When ready, toss them in a bowl with the BBQ sauce.
4) Garnish with julienned scallions (green part only) and sesame seeds, serve and enjoy!
**Chef's Tip:
Drumstick wings may require more cooking time than regular wings, depending on their size.