RECIPES
Pulled Tropical Pork Sliders
The tropicals in this recipe elevates the flavor profile to the next level madness.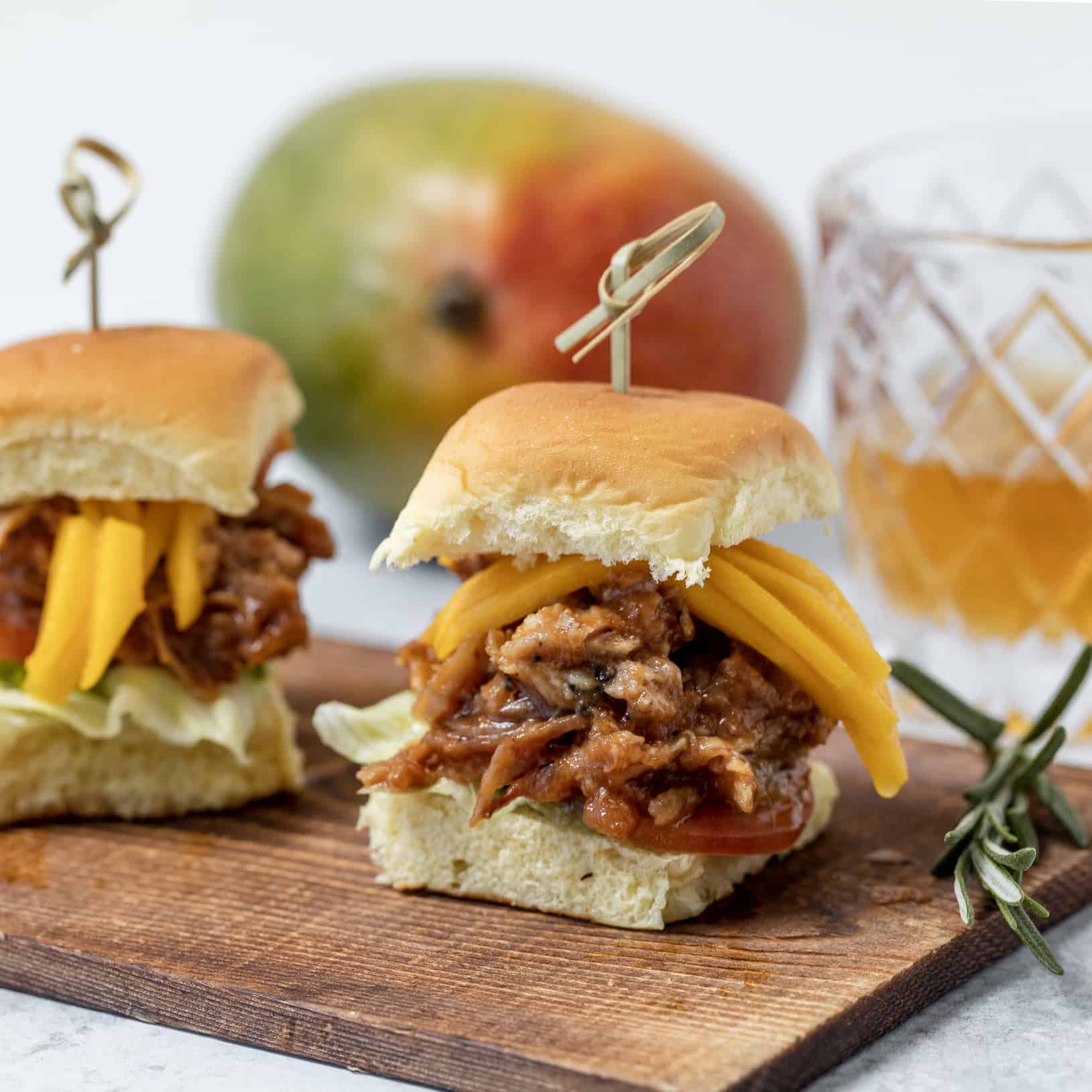 Serving
12 pieces
Time
2 1/2 hours
Difficulty
intermediate
INGREDIENTS
3 pcs mango
2" pc ginger
1 pc turmeric
1/2 gallon water
1 Tbsp.  tomato paste
2 pcs carrots
2 pcs white onion
1 lb. pork shoulder
2 Tbsp.  brown sugar
3 pcs rosemary leaves
12 slider buns
2 Tbsp.  salt
1 Tbsp.  pepper
1 Tbsp.  paprika
3 Tbsp.  olive oil
Aluminum foil
1 pc Boston lettuce
2 pcs Plum tomatoes
DIRECTIONS
1) Cut the pork shoulder in 3-4 inch cubes and season with salt, pepper and paprika.
2) Pre-heat a deep baking dish with the olive oil for 1 minute. Add the pork cubes and cook at 400F for 15 minutes.
3) Peel and chop the carrots, onion and turmeric.
4) Add the water, 2 mangoes, turmeric, carrots, onions, tomato paste, rosemary and brown sugar.
5) Reduce the oven temperature to 300F. Cover the baking dish with aluminum foil and cook for 2 hours.
6) Remove the pork from oven and shred meat.
7) Strain the juice from the baking dish in a pot and cook at medium to low temperature for 20 minutes. Add the shredded pork and cook for 5 more minutes.
8) Cut the lettuce in pieces as big as the slider buns. Slice the tomatoes and the remaining mango.
9) Serve in the buns with layers of lettuce, tomato, pork and sliced mango on top.