RECIPES
Roasted Pumpkin Soup
Comfort food made from scratch is the perfect way to warm up during the chilly days of autumn. Savor the moment with our creamy appetizer or side dish that captures the complex flavors of the season.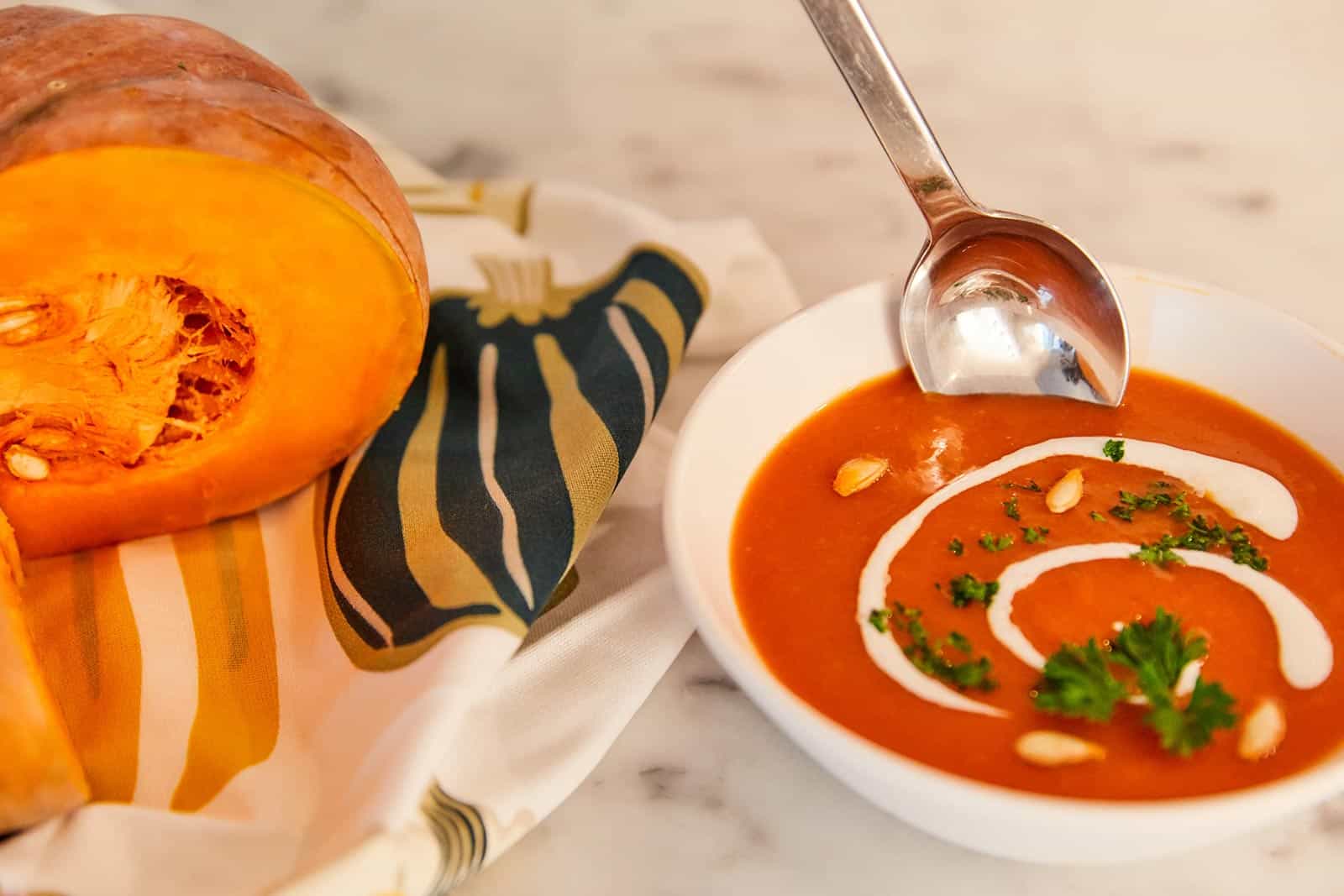 Serving
4 people
Time
55 mins
Difficulty
intermediate
INGREDIENTS
2½ lbs pumpkin halved and seeded
4-5 garlic cloves, unpeeled
Avocado oil spray
1 sweet onion, peeled and diced
2 large carrots, peeled and chopped
2 celery stalks, chopped
1 Tbsp smoked paprika
1 Tbsp olive oil
Kosher salt and pepper, to taste
3 cups homemade or store-bought low-sodium veggie broth
Optional
Plain yogurt
Pumpkin seeds
Sliced scallions
Fresh chopped herbs
DIRECTIONS
Preheat the oven to 400 °F and line a baking sheet with parchment paper.
Peel and cut the pumpkin into 2-inch pieces and place them into the prepared baking tray with the garlic cloves.
Season with salt and pepper. Lightly spray with avocado oil to coat, then spread into a single layer.
Place the tray on the middle rack of the oven and roast for about 30 minutes until the pumpkin pieces are fork tender.
As the tray is in the oven, prep the remaining veggies. Heat oil in a medium saucepan over medium heat.
Add the sweet onion, carrots, celery and sauté for about 5-6 minutes until softened, stirring occasionally.
Add in the smoked paprika, roasted pumpkin, and garlic (peeled).
Pour in the broth and bring to the boil, then continue to cook for a couple of minutes or so.
Take the saucepan off the heat and puree with an immersion blender until smooth.
Season with salt and pepper to your taste and garnish with desired toppings.