RECIPES
Tropical Sweet and Sour Yuca Fritters with Ginger Rice
Give a tropical touch to your Chinese New Year's celebration.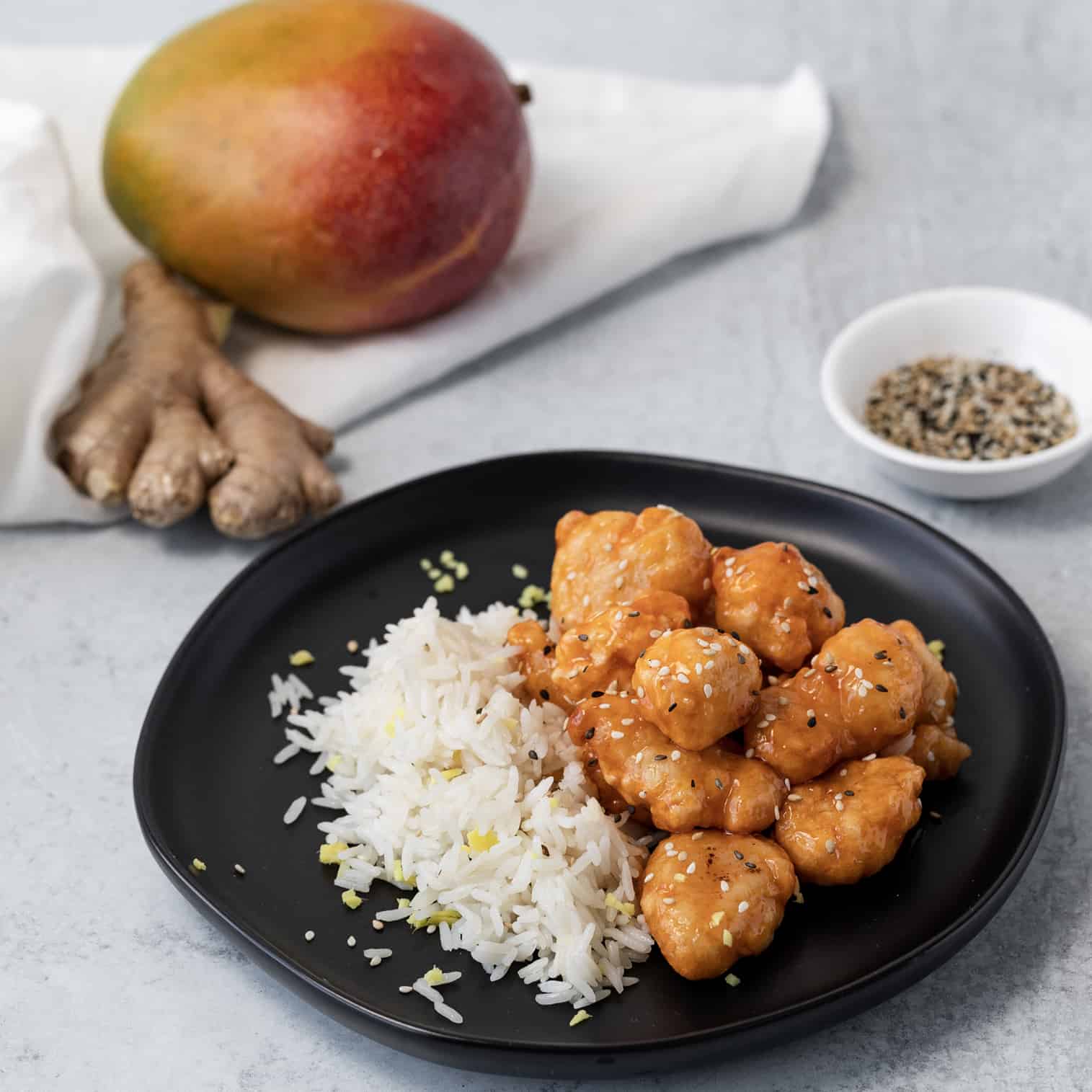 Serving
2 people
Time
60 minutes
Difficulty
intermediate
INGREDIENTS
For The Fritters:
1 pc yuca
1 tsp garlic powder
1 Tbsp.  onion powder
1 tsp black pepper
1 egg
4 Tbsp.  cornstarch
1 Tbsp.  salt
2 cups frying oil
1 pc mango
1/4 cup sugar
3/4  cup water
2 Tbsp.  rice vinegar
1″ pc ginger
1/2 Tbsp. Sambal Oelek
2 cloves garlic
1 tsp Sesame seeds
For The Rice:
1.5" pc ginger
3/4 cups water
½ cup Jasmine rice
1/2 Tbsp.  butter
1 Tbsp.  salt
DIRECTIONS
Fritters:
1) Peel the yuca and cut in 3-inch pieces and then into quarters. Boil for 12-15 minutes.
2) Clean the yuca, and in a bowl mix with onion powder, garlic powder, salt, black pepper and egg.
3) Shape into fritters and put in freezer for 30 minutes.
4) In a small pot, place the mango, sugar, water, rice vinegar, ginger, sambal and garlic to a boil. Reduce the heat and simmer for 10 minutes. Remove from the heat and let cool.
5) In a blender purée the mixture until smooth. Transfer to a small bowl.
6) Coat the fritters in cornstarch and deep fry for 3 minutes.
7) Once ready remove from the oil and toss the fritters in the sweet and sour sauce. Garnish with sesame seeds.
Rice:
1) Peel and chop the ginger as small as possible and transfer to a small saucepan.
2) Add 1 1/2 cups water, rice, butter, and salt to same pan. Cover; bring to boil over high heat. Reduce heat to low and cook covered, until rice is tender, about 15 minutes. Remove pan from heat; let rice sit 10 minutes. Uncover; fluff rice with fork.