RECIPES
Tostones with Pico de Dragon
Satisfy the dragon hunger that will come with this simple yet unexpected twist to a classic recipe.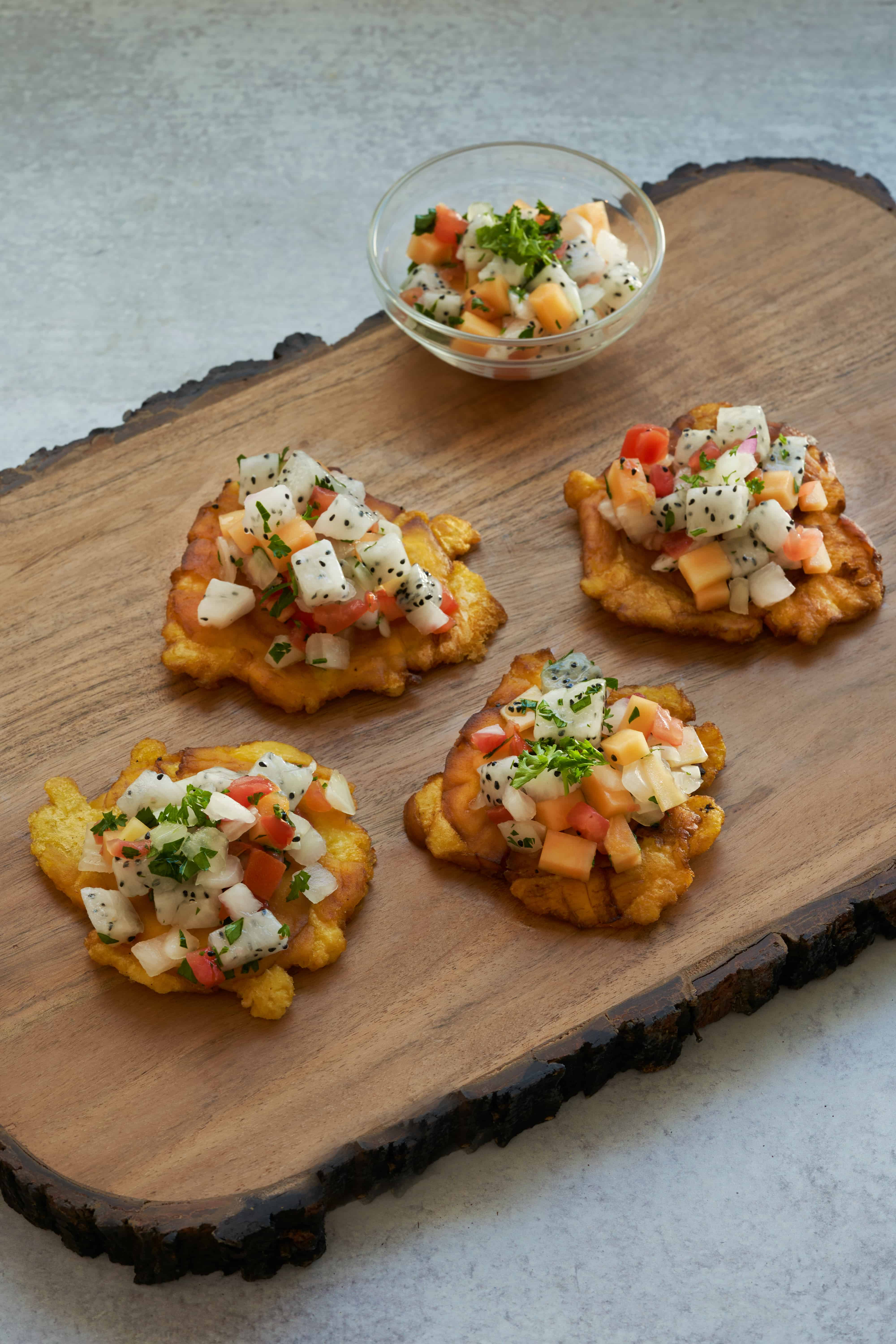 Serving
3 people
Time
40 minutes
Difficulty
intermediate
INGREDIENTS
1 plantain
1 cup vegetable oil
2 plum tomatoes
1 white onion
½ white dragon fruit
½ cup papaya
1 lime
1 bunch cilantro
2 Tbsp olive oil
Salt
Pepper
DIRECTIONS
1) Cut the ends of the plantains. Then, cut a line lengthwise through the skin only. Boil the plantains in water for 3 minutes. Remove from the water and peel.
2) Preheat the vegetable oil at mid to high temperature.
3) Cut the plantains into 1 inch thick pieces and fry them until they start bubbling and turn into a light brown color.
4) Using tongs, remove them carefully from the oil.
5) Cover each piece with plastic wrap and press with the bottom of a cold pan to flatten them to a quarter inch.
6) Deep fry them again in the oil for about 4-5 minutes.
7) Remove from oil and into a bowl and then sprinkle salt on top. Deep fry the plantains until golden. Remove and quickly add salt.
8) Cut the dragon fruit, white onion, and tomatoes in brunoise (small cubes) and season with lime juice, salt, pepper, and olive oil.
9) Garnish with chopped cilantro, and enjoy!
Chef's Tip:
For a terrific sauce to drizzle on your tostones, save some mix and blend it with a bit of jalapeño.