RECIPES
Turmeric Salmon with Ginger Vegetables
Salmon just got an upgrade. A simple yet enriched recipe that is perfect for dinner and will boost your immune system.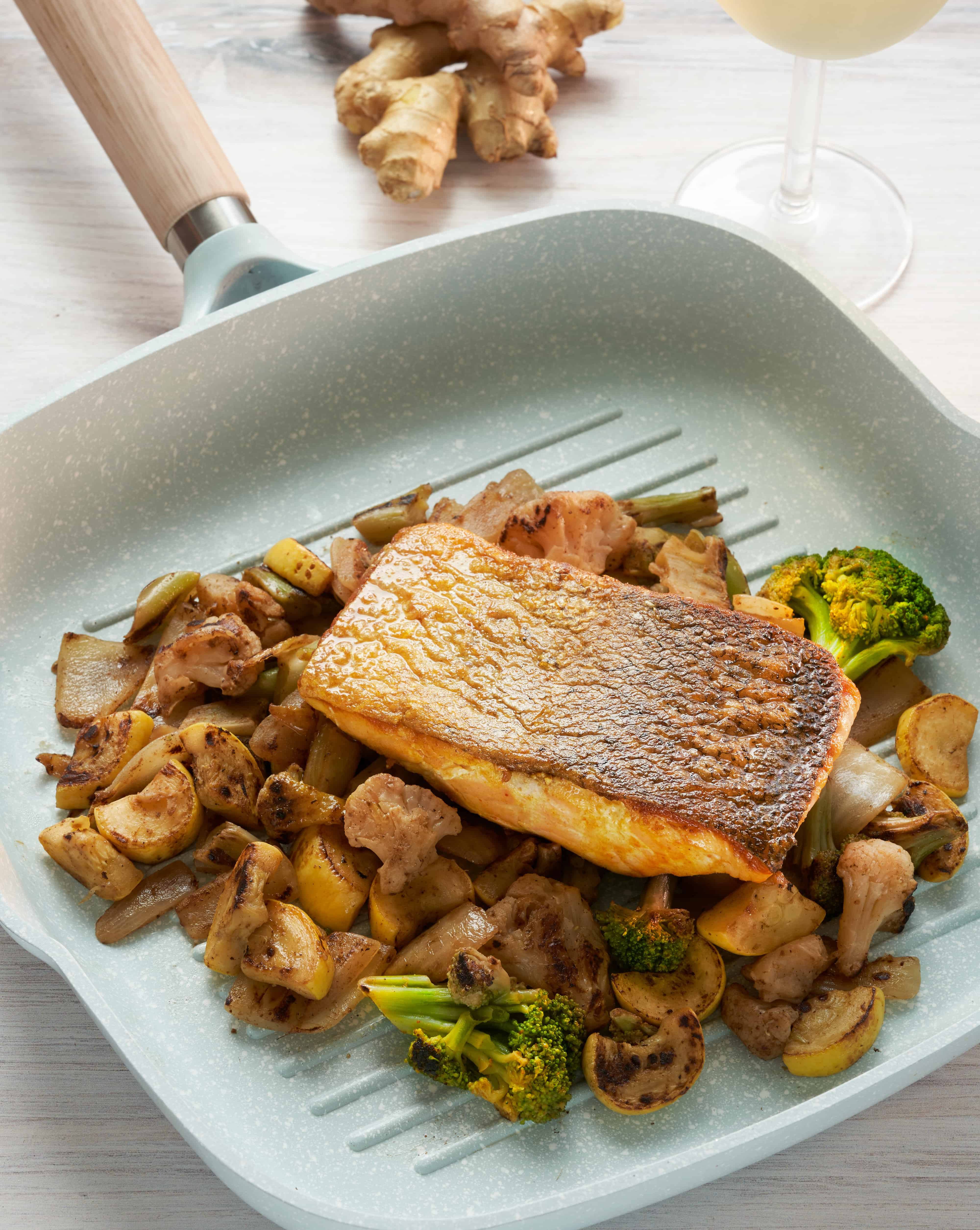 Serving
3 people
Time
2 hours
Difficulty
hard
INGREDIENTS
2 salmon filets
1 turmeric
1 tsp salt
½ tsp pepper
Lemon
Thyme
½ cup broccoli
½ cup cauliflower
½ yellow zucchini
1 white onion
2 oz. ginger
2 Tbsp olive oil
2 garlic cloves
DIRECTIONS
1) Peel the tumeric* and mix in a blender with 2 Tbsp of olive oil, 1 tsp of salt and ½ tsp pepper.
2) In a deep dish, marinate the salmon with the turmeric oil and let it rest for at least 2 hours.
3) Cut the broccoli and cauliflowers into small pieces (½ florets) as well as the zucchini and onions into cubes. Blanche the broccoli, cauliflower and zucchini in boiling water with salt for 3 minutes.
4) Chop the garlic and peeled ginger. In a cold sauté pan, place the olive oil, garlic and ginger, and set to high temperature. Once hot, add all the vegetables and sauté.
5) In a nonstick pan, cook the salmon, skin first and then on the sides, until reaching the desired temperature.
*Chef's Note:
Peeling turmeric is similar to peeling ginger. It can be done either with a potato peeler or with a knife and some patience.
*Chef's Tip:
To reach a medium temperature, press the salmon on the sides with your fingers and feel it getting tender.